Fire Roll Call Systems
£0.00 (Excl. VAT)
Introducing the

TIMENET

Fire Roll Call System.
A fire roll call system designed to capture and report at the moment of emergency automatically, which employees are present onsite including visitors and contractors.

How does it work?
Staff would register themselves ON and OFF the fire register when entering and leaving the building or site.
The fire registering terminal is hardwired to your fire alarm so in the event of a fire or drill it quickly print out a list of who is present or absent on a high speed fire printer.
The fire report is also viewable from any device at the fire assembly area where staff can easily be accounted for using our interactive muster register.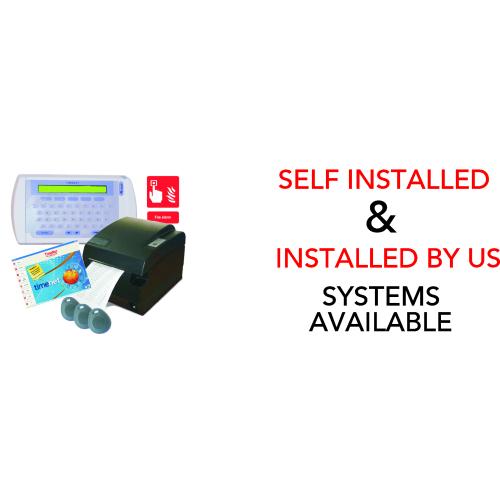 All The Features
Instant automatic fire roll call printouts in assembly point order.
Designed for small to large organisations.
Single buildings to multiple attendance terminals in multiple buildings, onsite or remote.
Simple employee registration at Timenet attendance terminal via fob, card or fingerprint.
Automatically emailed Fire Roll Call Report to Smart Phones.
Timenet Muster App to account for employees and visitors at assembly point.
Easy to update Timenet software for employee database modifications.
Existing Access Control fobs and cards can be adopted where compatible.
Visitor registration module to record visitor and contractor presence via self service kiosk options.
Includes entry level attendance monitoring of times and absence if activated
The Timenet system can also facilitate superior:-
Give us a call today – 0161-429-6851
Overview
Self Installed & Fully Installed Packages
From self installed packages to fully installed and commissioned systems, including programming and training.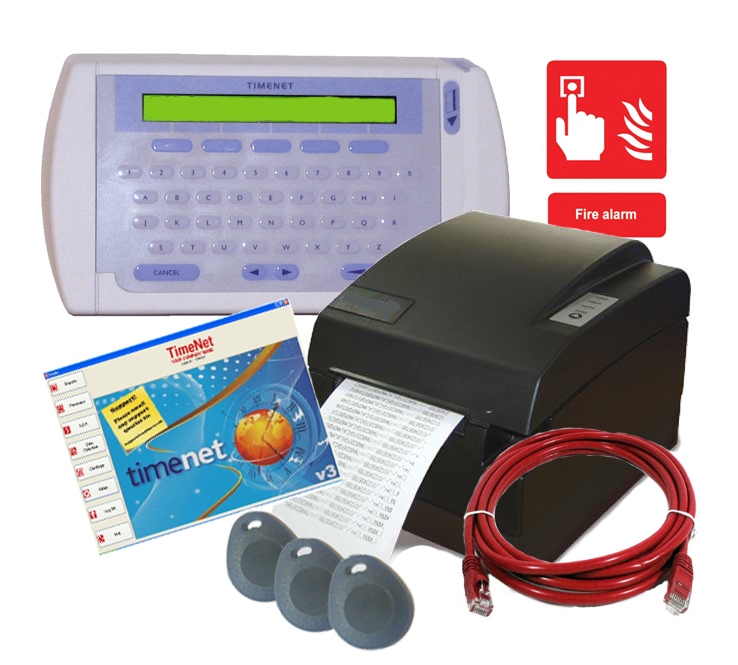 Robust but aesthetic attendance terminal for fire registration, suitable for the shop floor and office.
On arrival to site, employees register their presence via the Timenet attendance terminal presenting a fob, card or fingerprint, thus recording their status as IN on the fire roll call. Visitors and contractors can record their attendance via the same method if regular, manual recording via the Timenet software, or by entering their details via the self service visitor registration module.
Automatic & Instant Roll Call
The fire roll call report is triggered via either a connection from your fire alarm system and/or trigger button located at one of the emergency exits. The fire roll call is typically printed on a reliable high speed thermal printer connected to the Timenet attendance terminal, producing a list of employees present in fire assembly order. The receipt type printout is quickly collected en-route to the assembly point area. At the same time the fire alarm is sounded, the report is also emailed instantly to your fire marshalls smart phones.
Roll Call Quickly On Any Device
Once at the assembly point area, the fire marshalls can use both the printed and smart phone report to confirm all employees and visitors have left the building. The Timenet Muster App can also be preinstalled onto a smartphone or tablet, to quickly move employees over to the "accounted for" display as the fire roll call is completed by the fire marshalls.
The Timenet fire roll call system is logical to operate, reliable, accurate and quick, key points during an emergency scenario where every second counts and valuable safety information for the client and emergency services alike.                                                                                                                                                                           
Product in Detail
Manufactured, supplied and installed by us here in the UK.  Self install packages available.
Intelligent standalone attendance terminals with proximity and/or fingerprint reader.
Simple one action employee registration operation via fob, card or fingerprint.
Multiple terminal and remote site systems over LAN, broadband and corporate networks.
Automatic Fire Alarm Roll Call printout via high speed thermal printer.
Auto emailing of fire report to fire marshalls smart phones.
Timenet Muster App to account for employees and visitors at fire assembly point.
Visitor Registration Module available, using tablet or touch screen for self registration.
Duty leave function at the attendance terminal, record leaving site on business.
Real-time "Attendance Display Panel" showing who is IN or OUT, replacing the traditional slide board.
Comprehensive Timenet software with reporting and entry level attendance monitoring if required.
Store employee photographs and use for ID badge production.
Network client software with multi-level password protection.
Terminal time updated via internal or external NTP source.
Easy rotation of fobs and badges between leavers and new starters.
Unique attendance terminal employee messaging facility when employee presents fob or card.
Auto data backup utility.
Battery backed attendance terminal operation.
Images
Downloads
Specification
Timenet Software
GDPR compliant Windows software compatible with all Windows operating systems.
Communications between Timenet terminal and Timenet software is encrypted and secure. (Check and insert detail from DMW)
Timenet Terminal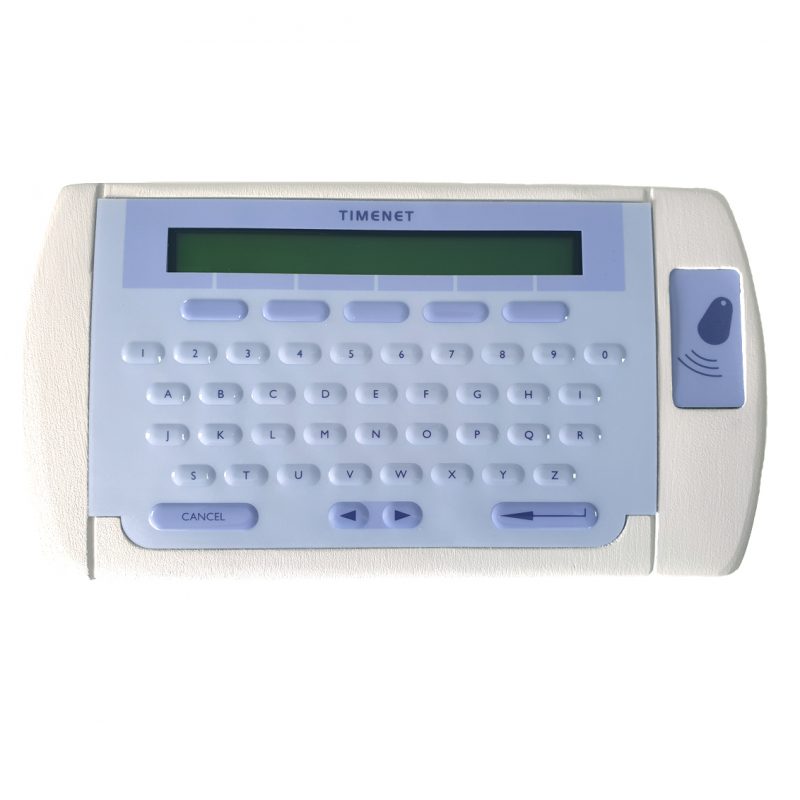 Stylish modern white terminal
Robust locked metal construction
40×2 character LCD display
45 key alphanumeric keypad
Ethernet IP.communication with Timenet software over LAN, ADSL (broadband relay service) and WAN (VPN).
Standard internal Proximity and Fingerprint reader options. External readers can also be utilised to match clients existing media including:-   HID iClass, HID Prox, Mifare Classic, Mifare Desfire, Paxton and many other card and reader formats
PoE (Power over Ethernet) option
2 switch inputs (inc Fire Alarm Input) and 2 relay outputs (inc Works Signals)
USB Fire Printer Output
Upgradeable firmware
NTP Time Server settings
Operational and Data Storage Battery Backup. Auto reset on restore.
Specification   
Dimensions 280mm (w) x 160mm (h) x 72mm (d)
Weight 2350g (with battery backup).
Power Supply 12v DC   Environment
Temperature 0°C – 40°C
Humidity 15%-90% Non-Condensing
Timenet Fire Printer
High Speed Thermal printer
Fast Print Speed up to 230mm/s
Simple and quick paper loading
Dedicated USB connection to Timenet terminal
Prints to 80mm wide paper rolls
Specification 
Dimensions 155.5mm (w) x 160mm (h) x 203mm (d)
Approx Weight 2kg
240v AC 50-60Hz   Environment
Temperature 5°C – 45°C
Humidity 20%-90% Non-Condensing
Order Online / Starter Package Options
Quote Request