Clocking Systems
£0.00 (Excl. VAT)

Introducing

TIMENET

 – Time & Attendance Clocking Systems…
Cloud based and none cloud based systems specifically built for any business from entry level to corporate.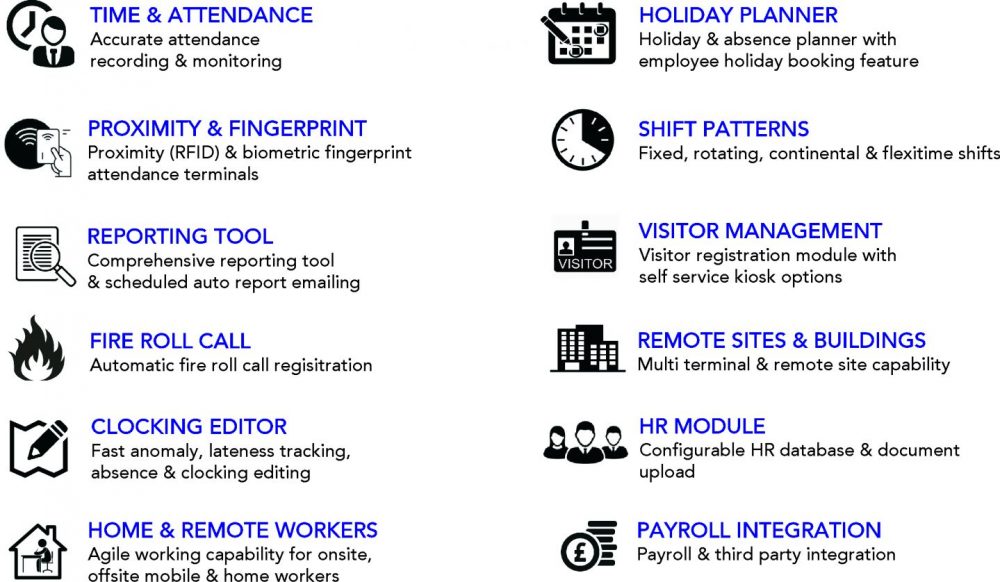 Web / Mobile Clocking (?)
Smartphone App & Staff Portal (?)
Hardware Attendance Devices (?)
Job Costing / Data Collection (?)
CLOUD Based or ON Premise (?)
UK Manufactured / UK Supported (?)
Fully Pre-Programmed Data Setup (?)
Proximity Keyfobs or Cards (?)
Biometric Fingerprint/Face Recognition (?)
Payroll & HR Integration (?)
Easy Self Install Package (?)
Full Onsite installation & Commissioning (?)
From £49
per month/min term
Entry Level
with Attendance Device
£POA
Call Us 0161-429-6851

Small to Medium
with Attendance Device
£POA
Call Us 0161-429-6851
Large Organisation
with Attendance Device
£POA

Call Us 0161-429-6851

The Timenet system can also facilitate:-

Overview
From self installed packages to fully installed and commissioned systems, including programming and training.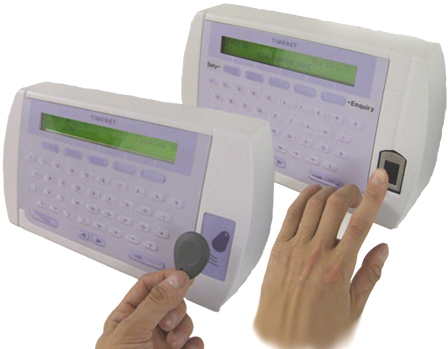 Robust but aesthetic attendance terminal suitable for the shop floor and office, (traditionally known as the clocking in machine) or simple recording of onsite status for protecting the health and safety of your teams.
User friendly software for fast and accurate payroll generation and HR management.
Timenet is a powerful management tool that gives you more control over efficiency and greater freedom for both staff and management.
Product in Detail
Manufactured, supplied and installed by us here in the UK.
Time and Attendance

recording for the shop floor or office environment.
Intelligent standalone attendance terminals with proximity and/or fingerprint reader.
Simple one action clocking operation.
Unlimited daily clockings including business leave and smoke breaks.
Mobile clocking option for the agile worker. Employees can clock from any PC, browser or smart phone at home or in the field. Track employees as they clock and move between sites.
Multiple terminal and remote site systems over LAN, broadband and corporate networks.
Comprehensive Timenet software.
Fixed, flexitime, rotating and continental shifts.
Working time directive reporting for easy compliance.
Extensive reporting included with additional user writable report facilities and bespoke report builds.
Scheduled auto emailing of reports.
Payroll software and spreadsheet exports and database integration (Sage Payroll, People HR, SQL etc).

Integrated access control

terminals with reporting of all door events.
Access zoning controlling door security, time and method of entry.
Door exit and door open switch inputs.
Automatic Fire Alarm Roll Call printout with auto emailing of fire marshalls and tablet muster app.
Absence and shift planner with holiday/sickness entitlement tables.
Full editing facility of clockings, hours and absence reasons with audit trail.
Customer definable absence reasons and free text commenting against edits and events.
Quickly report lateness, absence, overtime and coretime infringements in quick to view reports.
Book holidays via the attendance terminal, Timenet application, browser or smart phone.

Visitor Registration Module

, using tablet or touch screen for self registration.
Duty leave function at the attendance terminal, record leaving site on business.
Real-time "Attendance Display Panel" showing who is IN or OUT, replacing the traditional slide board.
Sound works signals and bells for shift times, breaks and lunches.
Configurable HR database with document upload.
Store employee photographs and use for ID badge production.
Network client software with multi-level password protection.
Terminal time updated via internal or external NTP source.
Optional display of employee hours and flextime balance at the terminal.
Departmental cost centre analysis. Record and move hours against department worked.
Employee self reporting software module.
Easy rotation of fobs and badges between leavers and new starters.
Unique attendance terminal employee messaging facility when clocking.
Hours and/or clockings can be displayed in decimal format if required.
Auto data backup utility.
Battery backed attendance terminal operation.
Images
Downloads
Specification
Timenet Software
GDPR compliant Windows software compatible with all Windows operating systems.
Communications between Timenet terminal and Timenet software is encrypted and secure.
Timenet Terminal
Stylish modern white terminal
Robust locked metal construction
40×2 character LCD display
45 key alphanumeric keypad
Ethernet IP.communication with Timenet software over LAN, ADSL (broadband relay service) and WAN (VPN).
Standard internal Proximity and Fingerprint reader options. External readers can also be utilised to match clients existing media including:-   HID iClass, HID Prox, Mifare Classic, Mifare Desfire, Paxton and many other card and reader formats
PoE (Power over Ethernet) option
2 switch inputs (inc Fire Alarm Input) and 2 relay outputs (inc Works Signals)
USB Fire Printer Output
Upgradeable firmware
NTP Time Server settings
Operational and Data Storage Battery Backup. Auto reset on restore.
Specification
Dimensions 280mm (w) x 160mm (h) x 72mm (d)
Weight 2350g (with battery backup).
Power Supply 12v DC   Environment
Temperature 0°C – 40°C
Humidity 15%-90% Non-Condensing
Timenet Lite Terminal
Stylish modern white terminal
Robust locked metal construction
16×2 character LCD display
12 key keypad
Ethernet IP.communication with Timenet software over LAN, ADSL (broadband relay service) and WAN (VPN).
Standard internal Proximity and Fingerprint reader options. External readers can also be utilised to match clients existing media including:-   HID iClass, HID Prox, Mifare Classic, Mifare Desfire, Paxton and many other card and reader formats
PoE (Power over Ethernet) option
Upgradeable firmware
NTP Time Server settings
Data Storage Battery Backup. Auto reset on restore
Specification
Dimensions 130mm (w) x 130mm (h) x 38mm (d)
Weight 850g.
Power Supply 12v DC   Environment
Temperature 0°C – 40°C
Humidity 15%-90% Non-Condensing
Order Online / Starter Package Options
Quote Request