Self Installed Clocking In Machines
The "Timenet Mini" is a self installed low cost version of the full Timenet Clocking Systems. With many of the features of the fully installed system, it is ideal for the small business of 5 to 50 employees available in Proximity, Biometric Fingerprint & Swipe options. The clocking in system package consists of everything you will need including clocking terminal, software, installation kit and support.
♦ Ideal for the small business. Up to 50 employees.
♦ Includes clocking terminal, software, installation kit and support.
♦ Simple self installation.
Clocking System Packages
(Please click on a package below for more information)
  ♦ Manufactured and supported in theUK   ♦ Time and Attendance recording for the shop floor or office environment  
♦ Intelligent standalone clocking terminals with integrated proximity, fingerprint or swipe card reader
  ♦ Simple one action clocking in machines operation
  ♦ Unlimited daily clockings including business leave and smoke breaks   ♦ Comprehensive Timenet software   ♦ Fixed, rotating or continental shifts with working time regulations   ♦ Flexitime – For flexitime we suggest you take a look at our full Timenet package by
clicking here
    ♦ Extensive reporting with additional user writable report facilities   ♦ Scheduled auto emailing of reports   ♦ Payroll software, spreadsheet and database integration (Sage Payroll, SQL etc)  
♦ Automatic Fire Alarm Roll Call printing
  ♦ Absence planning and holiday/sickness entitlement tables   ♦ Full editing facility of clockings, hours and absence reasons   ♦ Customer definable absence reasons and free text comments   ♦ Annual planner for absence bookings and shift rotations   ♦ Report lateness, absence, overtime and coretime infringements in one report   ♦ Real-time "ADP" attendance display panel showing employee attendance on PC screen   ♦ Sound works signals and bells for shift times, breaks and lunches   ♦ Integrated mini HR database   ♦ Capture employee photographs for full colour ID badge production   ♦ Network client software with multi-level password protection and audit trails   ♦ Terminal time updated via internal or external NTP source   ♦ Optional display of employee hours and flextime balance at the terminal   ♦ CCTV photo capture at moment of clocking   ♦ Departmental cost centre analysis   ♦ Employee self reporting software   ♦ Easy rotation of badges between leavers and new starters   ♦ Hours and/or clockings can be displayed in decimal format if required   ♦ Auto data backup utility    ** Upgrade to the "plus" version to connect local and remote slave terminals and web clocking option.
♦ Stylish modern white terminal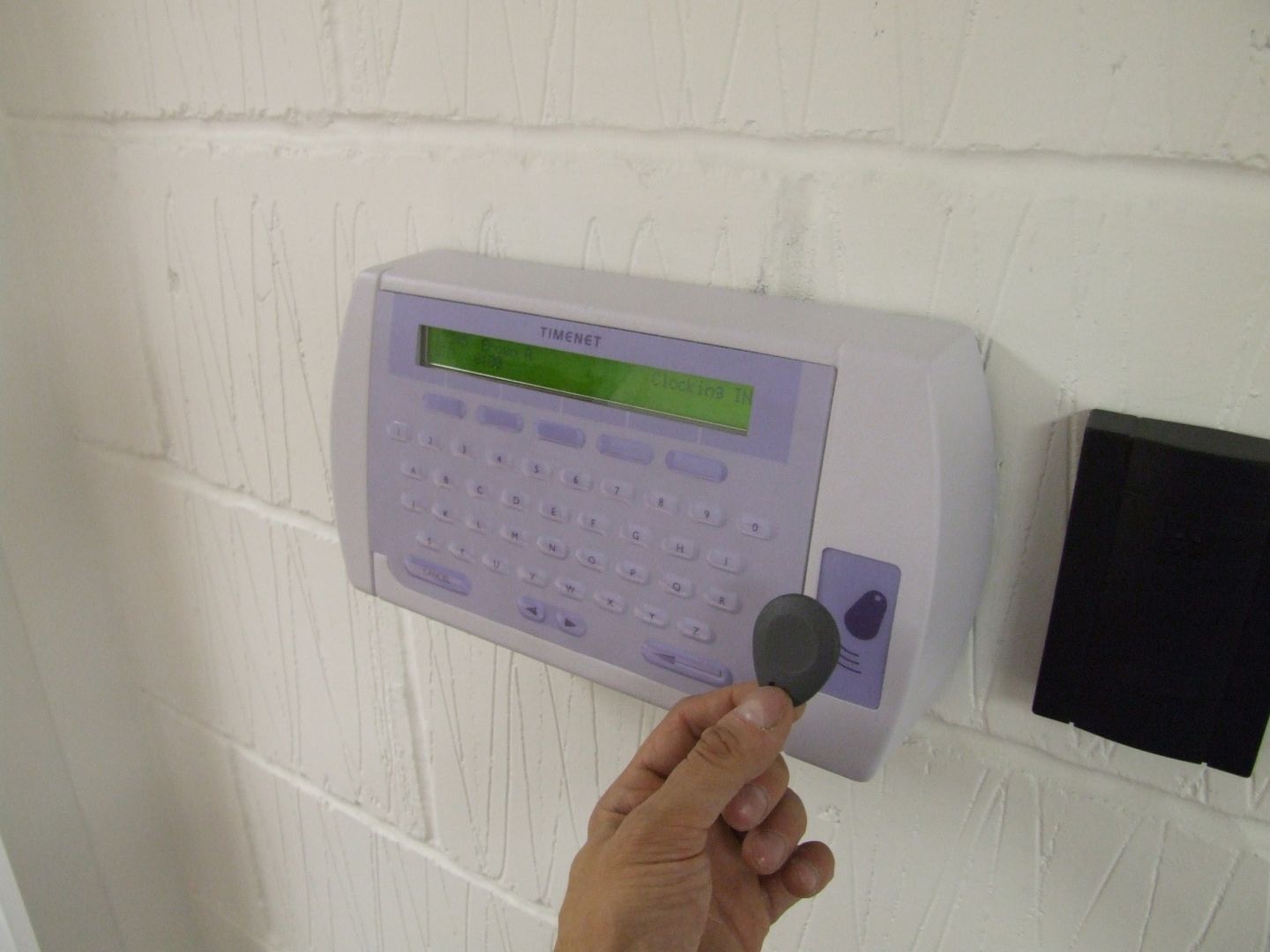 ♦ Robust locked metal construction   ♦ 16×2 character LCD display   ♦ 12 key numeric keypad   ♦ USBor Ethernet connection to PC software (TCP/IP)   ♦ Proximity, magnetic swipe card and fingerprint reader options as standard   ♦ HID iClass, HID Prox, Mifare, Mifare Desfire, Paxton and many other card formats and readers compatible.   ♦ PoE Power over Ethernet module option   ♦ Addition of extra slave terminals connected via Ethernet or RS485 (Timenet Mini+ Upgrade)
  ♦ RS485 network slave connection for wiring up to 1km apart   ♦ 2 switch inputs (inc Fire Alarm Input) and 2 relay outputs (inc Works Signals)
Specification
♦ Dimensions 133mm (w) x 133mm (h) x 40mm (d)   ♦ Weight 900g   ♦ Power Supply 12v DC 200mA
Environment:
♦ Temperature 0°C – 40°C   ♦ Humidity 15%-90% Non-Condensing   ♦ Optional IP56 sealing     
(Click on the images below to enlarge)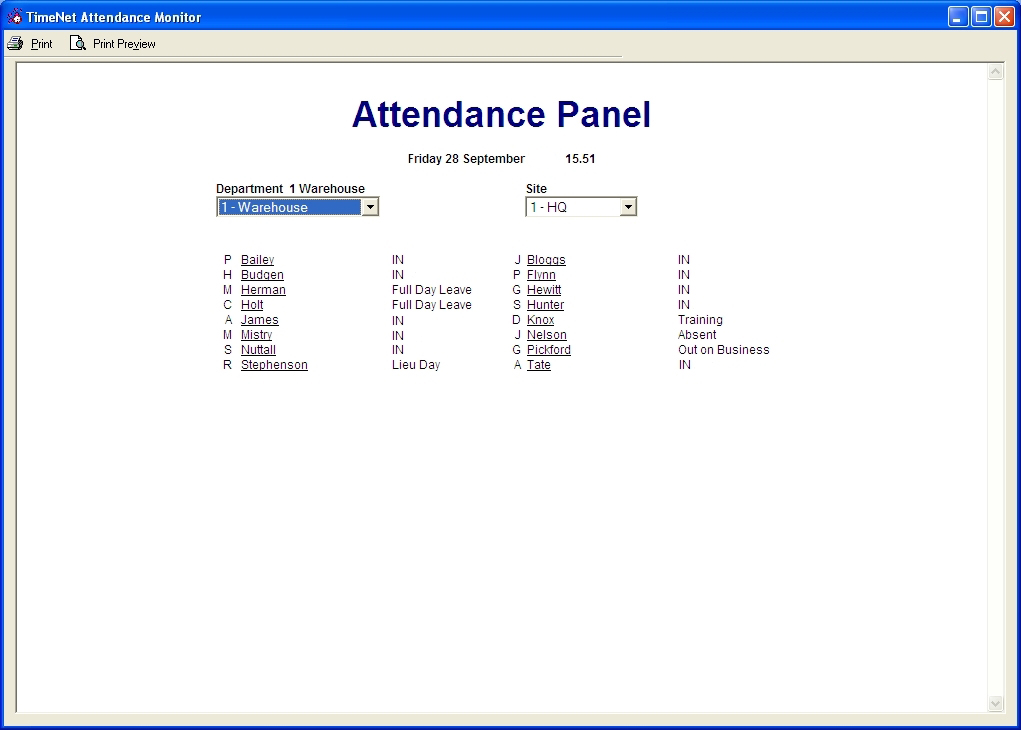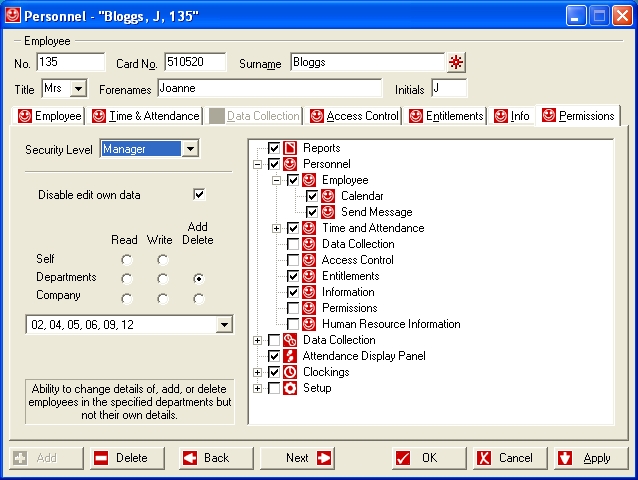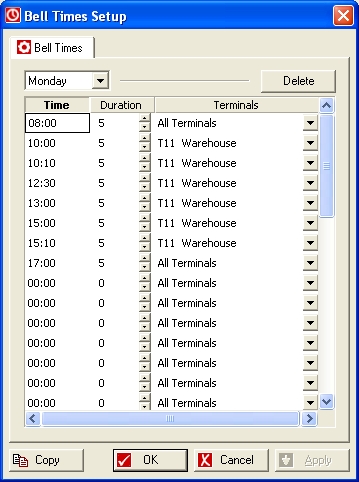 Herewith two sample Timenet Pay Reports (Standard & Flexitime) produced by the Timenet Software package. The reports are in effect a "clock card" or "attendance record", but the hours are calculated automatically according to your shift patterns.  
(Click on images below to enlarge)
Reporting Features
♦ Select any date range to view, file and print Clocking and Absence history.   ♦ Generate reports via Employee, Departments, Shift Group or Company  
♦

SHIFT PATTERNS
auto calculate hours worked into Basic and Overtime "Bands" and "Rates"  
♦

EMAIL REPORTS
to supervisors and the employee manually from within the Timenet     software or automatically by scheduled task  
♦

EXPORT REPORTS
to
payroll software
,
spreadsheet
and
third party databases/applications
♦

SQL
LINK
to write data to SQL tables,
MySQL, MSSQL
etc  
♦

FIND
function enables fast navigation up and down reports when searching data
♦

COLOUR REPORTS
highlight anomalies and infringements such as Not Clocked Out XX:XX  
♦

EDIT REPORTS
and save with comments  
♦

CUSTOM REPORTS
via the built in report generator created by you or ourselves       There are many reports included in the Timenet Software package.      
♦

Clock Card and Attendance Reports
displaying times clocked, hours worked and absence  
♦

Flexitime Reports
displaying flextime balances, credits, debits and carryovers  
♦

Gross Pay Reports
to approximate the gross pay over a selected period  
♦

Totals Reports
to summarise hours worked over a selected period  
♦

Sage Payroll Output
to export nett hours into Sage Payroll  
♦

Departmental Reports
to examine hours worked in assigned cost centres  
♦

Overtime Reports
to extract different rates worked over the basic day or week  
♦

Working Time Directive Reports
to compare hours against the standard legislation  
♦

Bradford Factor Report
to measure employee absenteeism  
♦

HR Reports
to print necessary human resource information and more  
♦

Present and Absent Reports
to monitor current workforce attendance  
♦

Duty Reports
to monitor time spent offsite on business  
♦

Fire Report
to automatically or manually print fire roll call and attendance  
♦

Infringement Reports
to monitor lateness, core times and absence  
♦

Exceptions Reports
to highlight any anomaly to the normal working day  
♦

Future and Historical Absence Reports
to analyse all types of absence  
♦

Holiday Entitlement Reports
to keep track of employee holidays remaining  
♦

Audit Reports
to monitor software user employee and system modifications  
♦

Access Control Reports
to monitor employee entry and exit and door events